A fantastic Easter banana loaf recipe full of fruit and spices.
1. Switch the oven on to 160 degrees C, Fan 150 degrees C, gas mark 4 or 350 degrees F.
2. Using greaseproof paper or baking parchment, line your tin(s). Alternatively, use a a ready-shaped loaf tin liner.
3. Put the flour and baking powder into a roomy bowl and stir to combine. Add the butter and chop it up into small pieces with a table knife. Using your hands then, rub the butter into the flour using the rubbing in method. For more help with this, see our rubbing-in method step-by-step guide.. The result should be like fine breadcrumbs.
4. Add the sugar and spices and mix in.
5. Fold in the mashed banana and beaten eggs, then the dried fruit and mixed peel.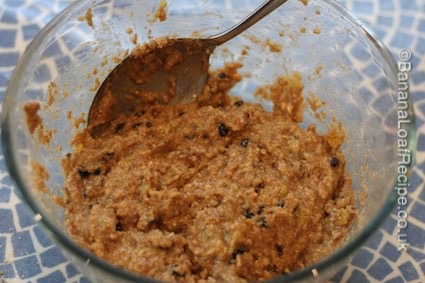 6. The mixture should be like a batter. Spoon it into your tin(s).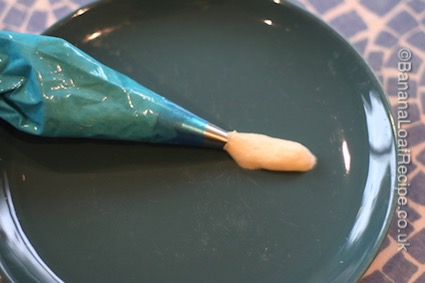 7. If you want to put a cross on the top, mix your 4tbsps plain white flour with just enough water to make a thick paste. Sppon it into a piping bag fitted with a plain round nozzle. Alternatively, you could use a freezer bag with the corner cut off or simply a teaspoon. Squeeze or spoon a cross on the top of your cake. If your paste is thick, you may find it useful to have scissors to hand to snip the paste when you have piped to the tin edge.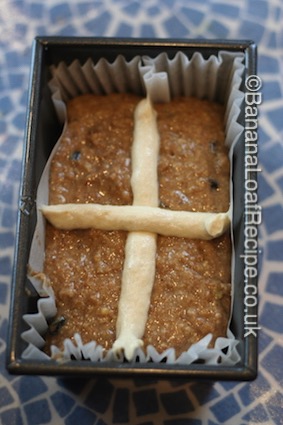 8. Bake for approxmiately 45-50 minutes for a 1lb loaf or 1 hour for a 2lb loaf. If you think the cake looks and smells ready to come out of the oven, carefully test with a skewer - there should be no batter on the skewer when you pull it out. See our article How to Know if your Cake is Cooked for more help with this.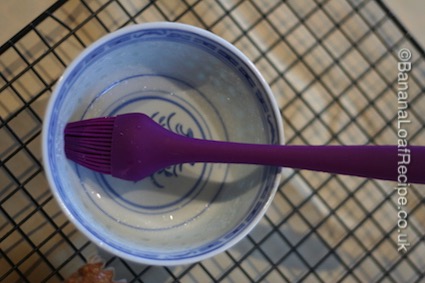 9. Towards the end of cooking time, boil a kettle and mix your 2 tbsps of granulated sugar with a little hot water to make a syrup. Once the cake is out of the oven, remove it from the tin and, while the cake is still hot, brush the syrup over the cake to give it a traditional glazed look.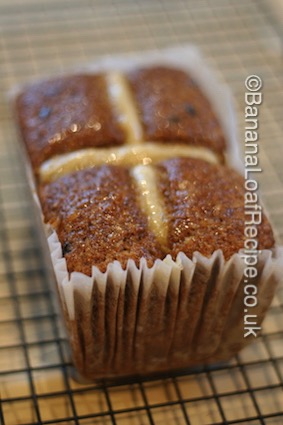 10. Leave your cake to cool on a wire rack. Serve and enjoy, and have a very Happy Easter.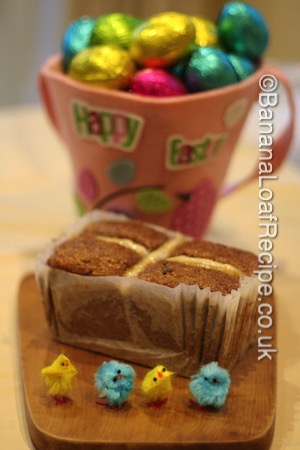 11. This cake keeps well in an airtight tin for up to a week and freezes well.