Baking a cake with kids is perfect on that front but most cake recipes involve creaming butter with sugar or melting butter - neither of which kids can actually do with ease. The banana loaf recipe we have here requires no electric mixers, no hard beating that needs strong arms and no saucepans on a hob. Banana loaf is a relatively healthy cake too so they can pig out a bit on the fruits of their labour and you won't mind too much. Yes, it can be a bit messy doing it with kids but if you plan for that, you can all have fun together. We've cooked it with our children from the age of 2!
Free Printable Banana Loaf Recipe for Kids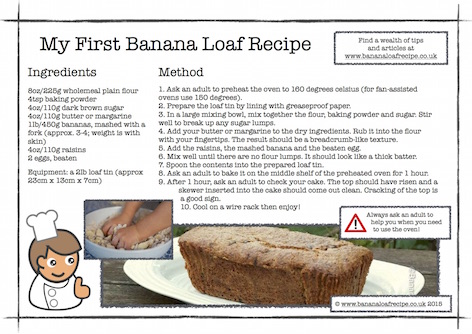 We have also produced a special free printable version of our banana loaf recipe (above) especially for kids that can be downloaded here. Just click, download the pdf and print. Alternatively, click through to our Signature ClassicBanana Loaf Recipe to view on screen the original banana loaf recipe written for adults with pictures of each stage of the preparation. Or mix and match both to help you and the kids along.
Successful Baking Tips
To make your life easier, we've devised a list of 12 Great Tips for Successful Baking with Kids that we think will help your baking session go more smoothly and, hopefully, encourage a love a cooking in your kids that will sustain them through to adult-hood.