There are a number of methods you can use.
1. Grease the Cake Tin
This is a fairly effective method but it's not ideal.
Use some kind of edible soft grease product - oil, butter, margarine - and spread it inside the baking tin before you put the cake mixture into it. A silicone pastry brush or even a piece of kitchen paper is useful for ensuring you spread it well and have good coverage of the whole of the inside of the loaf or cake tin. Don't overdo it though - a thin coating is plenty.
Although quick and easy, we don't find this is the best method for preparing a cake tin. One problem is that it will leave a residue of grease on your cake. This can affect taste, appearance and texture.
If you have to resort to greasing and no additional barrier, do make sure that you match the grease type to the grease in the recipe - if you've made a delicious sponge with butter, do not, whatever you do, grease your cake tin with olive oil! It will leave a clashing taste on your lovely cake. Melt a little butter and brush it inside the cake tin instead.
Furthermore, getting the cake out of the loaf or cake tin can be a little tricky despite the greasing so be sure to check the cake has loosened away from the sides and base of the cake tin before you try to remove it. If it has stuck, use a non-stick palette knife or similarly rounded end knife to loosen it. Don't use a metal or sharp knife or you will scratch your cake tin. Remember that the cake tin will be hot and the cake will be at its most fragile when it is warm so proceed with caution.
Overall, there is quite a risk of things going wrong so we would only recommend relying on greasing a loaf or cake tin in desperate circumstances!
2. Line the Cake Tin with Baking Paper
Lining a cake tin with baking paper has a number of great advantages:-
It makes makes the washing up a bit easier - no cake residue to scrub out of the tin.
It is said that the paper also stops the cooling bread or cake from drying out.
is easier to lift the cake out of the hot tin and move to the wire cooling rack as you can (carefully) hold onto the paper.
If you are using a loaf tin for one of our delicious Banana Loaf Recipes, then you've got one of the easiest types of baking tins to line since it is rectangular in shape. There is a great video on the Good Housekeeping website showing how to line a loaf tin and you will see that it is not hard at all. You still need to grease the loaf tin so that the paper does not move about when you are filling it with cake mixture, but the grease will not touch the cake so not affect the taste or appearance of the cake.
3. Line the Cake Tin with a Pre-formed Cake Tin Liner
In our opinion, there is an invention that is better than embarking on the origami that is lining your cake tin with paper. Drum roll please … it is pre-formed cake tin liners. These are particularly easy to get hold of in the loaf tin form that we use for all our banana loaf recipes. You can buy them to fit standard sized 1lb and 2lb loaf tins. If you're going to make even a few loaf cakes, breads or even meat loafs in your life, we highly recommend getting them.
The pre-shaped loaf tin liners are made to fit the loaf tins and you do not have grease the loaf tin first like you do if you are cutting out the lining paper yourself (though you may want to). This means practically no washing up which is always a winner in our book!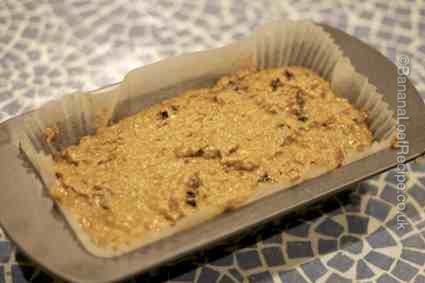 In addition, the loaf tin liners actually look really smart. A loaf cake in a liner can be given to a friend or to a local home-made cake sale, and it really does look very presentable.
We have tried a number of brands and have found that the Kitchencraft 2 lb Loaf Tin Liners
are the most reasonably priced for the quality you get. They come in packs of 40 and certainly make your life easier. You can also buy these cake tin liners in a 1lb loaf tin size form and as 8"/20cm round cake tin liners. We simply pop a liner into the cake tin and fill it with cake mixture. Once the cake is cooked, it is easy to lift the cake out of the tin and there is barely any washing up to do!
When buying loaf tin liners, do check the dimensions of your loaf tin first to make sure they match the liners. We originally had an old 1970s 2lb loaf tin and the standard loaf tin liners that are widely available in the shops were wider and shorter than our tin. It seems it was our loaf tin that was not standard, rather than the liners, but it's always best to check.
You can see more reviews of the Kitchencraft 2lb Loaf Tin Liners here.
.For a few pounds you will have beautifully presented cakes with little washing up - what more could you want?!